2D Futures Panel is set for July 15, 2021. The format will be Zoom-based due to current university restrictions, and will be held at the Centre for Doctoral Training in the UK. The event is the result of a collaboration of the University of Manchester and University of Cambridge.
Guest speakers on the panel will be
The panel will be discussing the future of graphene & other 2D materials.
"It's not every day you get a call to be part of a panel with two of the top scientists in the world including a Nobel Prize winner," stated Adrian. "This will be fun!"
The 2D Futures Panel audience will be almost entirely composed of PhD students with projects based on 2D materials and Graphene.
These doctoral students will be from the University of Manchester and the University of Cambridge.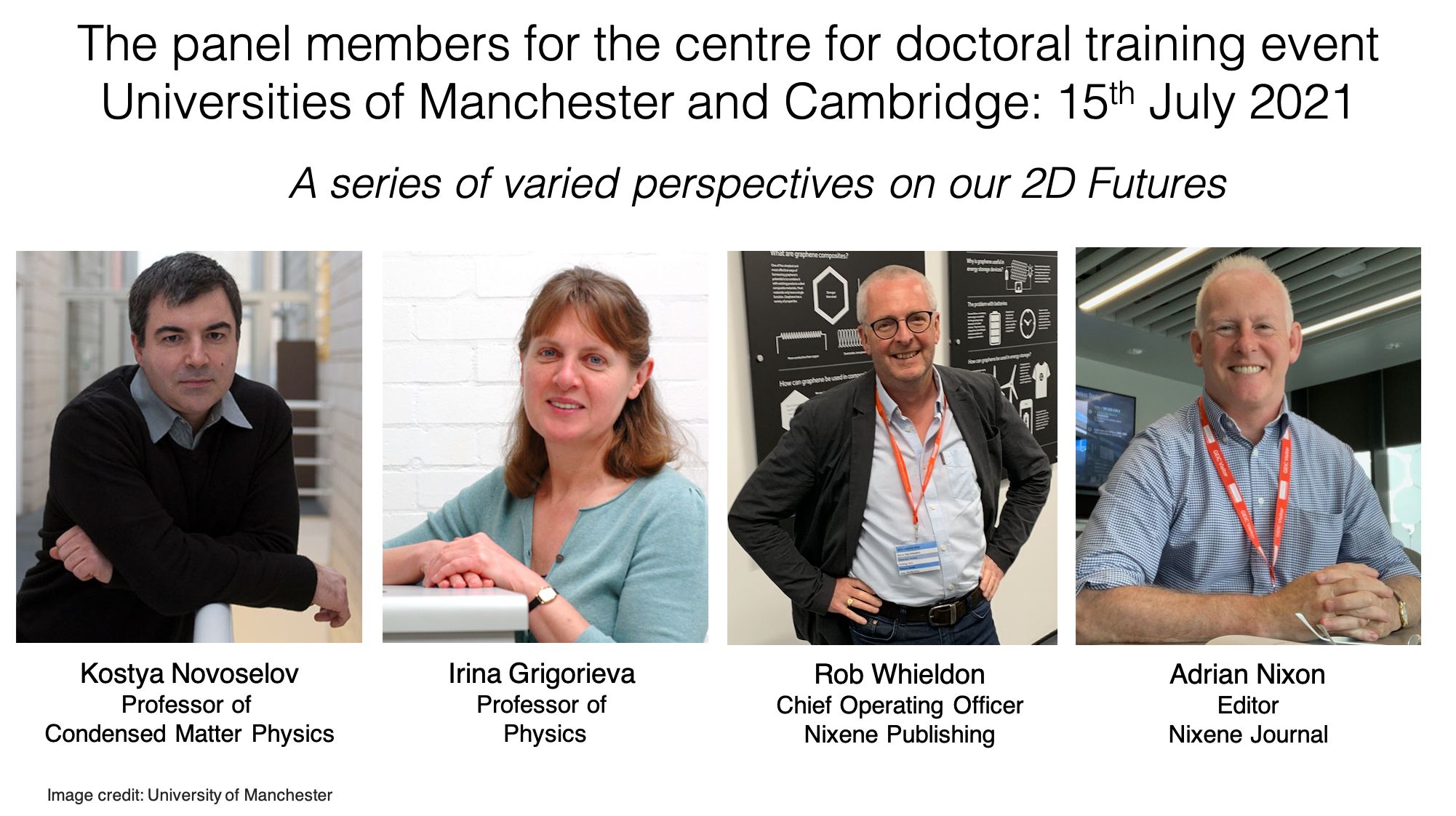 Adrian and Rob have been very busy with speaking engagements together in 2021, including the following:
April:  Both were active participants in the Graphene Hackathon, held virtually at University of Manchester, April 27, 2021. They made a presentation at the event, "Graphene: Impossible to Industrial in Just 17 Years."
March: Debbie Nelson, Contributing Editor and Project Manager for Nixene Publishing, joined Adrian and Rob as they presented "A Graphene-infused Space Industry" to NASA – National Aeronautics and Space Administration Commercial Space Lecture Series on March 17, 2021. The lecture series is presented weekly to a closed audience; they are not recorded, although some speakers offer their slides as free downloads.
On March 9, 2021, the duo presented "Graphene Progress and Its Promising Future for Space Elevators," as part of Blue Marble week, sponsored by industry partner Foundation for the Future ongoing webinar series.